Searching back through last week's spin and fluff, one things stood out from the latest fluffy artist's impressions:
What's that on the left between the lake and the Town Hall?  It's a main road, isn't it?  All this is showing is that Furnivall Gardens is being given a makeover and a row of large blocks of flats along the northern edge.  There's no 'reconnection' going on at all in this image really.
The origin of it appears to be connected to this Masterplan design from January 2014:
This has some notable similarities with the imagery publicised by LBHF last week, such as the blocks north of Furnivall Gardens and the road between them and the Civic Centre.  It it also clearly incompatible with the Feasibility Study Option 1, as this image shows. Masterplan roads in purple, Option 1 in Green.
Clearly the western and eastern parts of the masterplan can't have both blocks of flats or a commercial centre *and* the original six lane A4 rising up from its tunnel.  The tunnel portals cannot realistically be in the Masterplan area and therefore the 'Option 3′ mentioned shows that it is predicated on the longest tunnel which has the highest rate of traffic displacement.  The Masterplan area is therefore going to have to take half the traffic of the current flyover on non-grade separated surface roads which have been narrowed by building work.  I'm not entirely sure that makes for a great town vibe, you've got a busy road cutting off the retail centre from the cultural centre.
The existence of a Masterplan is hinted at in Section 8 of the Feasibility Study, oddly without mentioning which option it refers to and how much remaining surface traffic would need to be catered for:
A theoretical exercise was undertaken in partnership with the Greater London Authority (GLA) in order to capture the land value from developable land released by the burying of the flyover in order to meet construction and other costs. In order to do this a master planning type piece of work was undertaken in Hammersmith town centre and along the A4 corridor to come to a reasonable assumption of the quantum of land released for suitable development. From this, assumptions were made on residential sales values, unit sizes and financial receipts.
Given that Option 1 frees up a tiny amount of land and the Masterplan is apparently in the billions range it must be a long tunnel option, yet the Masterplan imagery doesn't look like it's built round the surface roads carrying 50,000-odd vehicles which would be required.  There's a sharp bend in one of them and the CGI imagery below shows two lanes and a bus lane with a vanity lardbus in it, and is that Cycle Superhighway 9 on the right there?  There isn't anything resembling a coherent picture you'd hang north of a billion quid of investment on.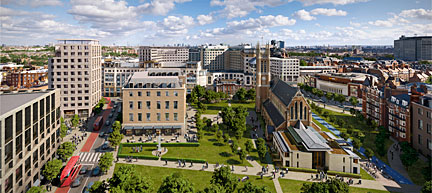 So just what is this magical presentation Boris was referring to on LBC last week?
"A presentation came in from H&F. They've been working for months on this idea of creating a new town centre in H&F.

"We've been listening to this for months and months thinking come off it this is never going to work and actually it is brilliant.

"It adds up. It's a most fantastic scheme. We're going to tunnelise the flyover.

The Mayor added: "What was interesting was even the hardened TfL engineers looked at all this – they've been very sceptical – and they thought it was a great scheme."
Also, why is the figure of £1.7bn bandied around instead of the £218m for the only feasible scheme and the £1.2-£1.3bn for the unworkable long tunnel options?
The only conclusion one can come to is that Boris is indeed talking about one of the long tunnel options, the £1.7bn is probably a mistake for the top-end £1.297bn of Option 3.  So why hasn't TfL told him that the traffic problems don't work with the GLA's Masterplan due to needing far more roadspace than it provides and that without traffic restraint and modal shift the 'new town centre' would be little more than a car park?
An FoI request is going into City Hall asking for the presentation received from LBHF, the Mayor's preferred tunnel start and end points  and TfL's responses to it as quoted by Boris.
Related Posts
Back To Work

Apologies for the slow pace of life in these parts, but we've (well, Helen and…

Stuff On Nonsense

Reaction to the Mayor's stumbling has been slowly appearing in the press. The Telegraph and…

Stuff On Nonsense

Dave Hill recorded the State of London Debate, and I'll work my way through it…